::Show Review: Trey Anastasio Band at Chicago Theater 10/19/12::
Travelin Light
-by Adam Schon
Trey's band pulled into the ornate Chicago Theater on a rainy night with only the tour opener behind them the night before in Detroit. Sauntering on stage at just after 8pm with the giant tapestry of the Traveler album cover art behind him, Trey opened with a crowd favorite Jiboo, which noodled softly and never really showed any teeth. Two new songs from the album followed, the intriguing all-instrumental Scabbard, and then one of the best, most distinctive tunes called Corona. With hints at some sort of environmental apocalypse ("when all of this is over and the hydrogen returns"), the song carries some extra weight and oomph along with a killer signature guitar riff from Trey. This song and Traveler feel fresh and emotional and serve as the foundations of the new material. Up next was Push On Til The Day, which is basically TAB's YEM, and they always tear the roof off with it, with Trey wailing machine-gun riffs and the horns blasting in tight unison. Cayman and Burlap Sack kept the first set flow grooving nicely, as those tunes are also bread n butter songs for the band to show off their laid-back but funky chops. Trey then gave us another new song called Frost, which is a lovely soft ballad that he debuted on the last Trey tour, which showcases the sweet harmony between Trey and Jennifer and Natalie, and has a sweet refrain of, "...maybe he would sail away". Getting back to the business of rocking, Trey then brought the Night Speaks, which is one of TABs best songs, but it doesn't quite pack the nasty punch that it did back in 2005-06 with 70 Volt Parade. Trey has been playing the dexterous Valentine since his 2008 Fall tour, but its now been tweaked and reworked a bit with even better results. The super fast Trey notes and vivid imagery ("My arms in the eyes of a web of light, a tornado of light beams") give it an elevated, effervescent quality. Up next was Pigtail, which also has a new and improved arrangement, and is bolstered by the catchy lyrics and Phish-like vibe of fun and levity (it was played once with Phish in Worcester in 2010). Rounding out the strong set was Sand, which is an inevitable chunk of any TAB show, but Trey really pushed this jam out of the box and shredded the final segment to close the first set with authority.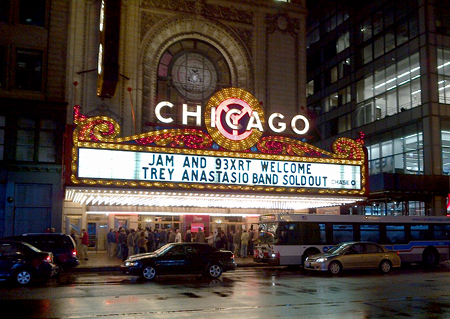 TAB 10-19-2012 (Adam Schon)
The second set opened with the only Alive Again of the tour, followed by Ooh Child, the feel-good recognizable cover that ignited the crowd and had the entire theater singing along. Next was Money Love, one of TABs oldest and most trustworthy warhorses. Currently, Money Love is the primary vehicle for Treys band to shred the song and then go deep with some dark, exploratory jamming. More than any other tune, Trey uses a snarling, nasty raw tone on Money Love that contrasts with the softer, lighter musical palette of the bands current sound. The new tune Architect followed, which serves as an example of their contemporary vibe, which gives off a pleasant, if not bland, impression (not helped by the sappy chorus, "reconvene, reconnect, raise a glass to the Architect"). Up next: Clint Eastwood which is also on the album and a great cover choice that TAB made their own on last years tour. With Je-Ha taking the spotlight and spitting out the spoken-rap lyrics like a pro with Trey oozing a sly groove behind her, the song is a strong addition to the standard setlist rotation. Plasma has the potential to be one of Treys biggest jam launchpads (check out the epic versions from Warfield 05 and Vegas 06), but it can also be a road to nowhere, as it unfortunately was this night. The horn section does a nice job giving Magilla a retro 50s vibe, and several couples in the aisles started full-on swing dancing to the ditty (Not bad, Chitown!). While not a huge fan of Devil Went Down to Georgia, this version actually smoked and the entire band put all their effort into nailing the Charlie Daniels Band cover. Way I Feel is another rare tune that slinks along with a sly wink, but this was not the most emphatic rendition and contributed to the lack of cohesion and flow in the second set. After Goodbye Head disengaged the crowd further, the band launched into the ubiquitous First Tube with a nod from Trey.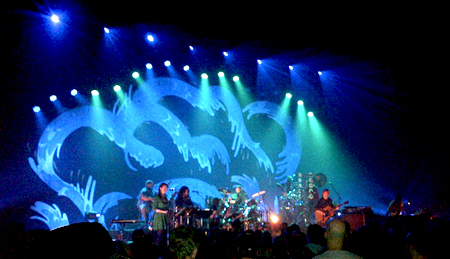 TAB 10-19-2012 (Adam Schon)
As the crowd hoped for a Sultans of Swing encore ("the horns, they blowin that sound... saving it up, for Friday night"), we were greeted instead with At The Gazebo, which is an unfortunate horn dirge leftover from the 2000s, and it would be hard to think of a worse encore. The show ended on a triumphant note, however, with Traveler. The titular song has some weight and urgency to it, and an inspiring message in the lyrics ("At just the right moment, everything clicks/ You see the way forward, and move just a bit"). Written with his Phish writing partner Tom Marshall, Traveler feels vital and captures the exploratory nature of Trey himself, as he is endlessly traveling towards new music and personal growth.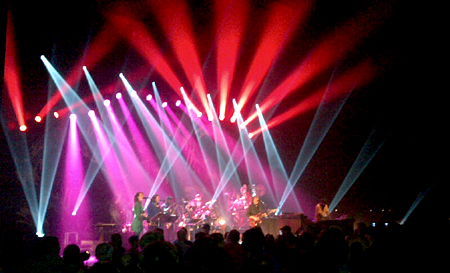 TAB 10-19-2012 (Adam Schon)
As a whole experience, despite its flaws, this show (and tour in general) was a lot of fun and its doubtful that many people (if any) went home disappointed. Trey is clearly very invested in this new material and enjoys this creative outlet immensely as it is his much needed departure from the juggernaut of Phish. However, it seems evident that this current version of TAB has a softness that is easy to digest but lacks the depth and exploratory gusto of Treys previous bands from the mid 00s. With 70 Volt Parade, it felt like Trey was unleashed and slaying small intimate venues with Tony Hall laying down a bouncy groove and pushing him to exceed his limits. Perhaps because of his sobriety, Treys band is now much more contained and interested in light, fluffy textured moments rather than deep, dark explorations in what Trey once called "Jam-Metal Rock". We are fortunate that Trey is such an intensely creative artist that, just like Jerry Garcia, he needs a secondary, solo band to satisfy his musical appetite. It would be awesome if he would only let go of the tether a little more and explore his darker side with TAB.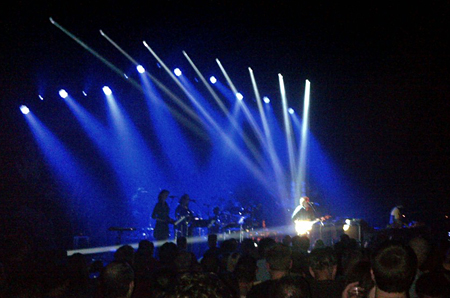 TAB 10-19-2012 (Adam Schon)
A couple tech notes: Trey has a separate microphone behind him that he uses to communicate with the band members to call the next song. Big Red also debuted a new guitar on this tour, mostly to play on the new songs. He is using a bright red Fender Jaguar with a sharply different tone than his usual Languedoc Ocelot. He also played one of his acoustic guitars on a stand for the intro to Architect so he could switch back quickly to the electric.


10/19/12 Chicago Theatre Chicago, IL

Set 1: Gotta Jibboo, Scabbard, Corona, Push On Til the Day, Cayman Review, Burlap Sack and Pumps, Frost, Night Speaks To A Woman, Valentine, Pigtail, Sand

Set 2: Alive Again, Ooh Child, Money Love and Change, Architect, Clint Eastwood, Plasma, Magilla, The Devil Went Down To Georgia, The Way I Feel, Goodbye Head > First Tube

Encore: At the Gazebo, Traveler


---

Other Schoney Reviews:
MSG NYE '11 Run